Welcome to Lake Village Clinic
Part of Providing Superior Health Care
is Making it Easy for You to Receive It.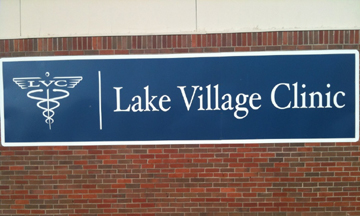 Lake Village Clinic is the center point of medical expertise for the Ark-La-Miss area. Lake Village Clinic provides acute and emergency medical services for visitors and residents of the surrounding area.
Lake Village Clinic operation is maximized to the fullest to provide the care and attention found in much larger cities. Our staff and degree of medical training excels to handle your needs. Your life is in good hands, at Lake Village Clinic, adjoined to Chicot Memorial Hospital.
The History of Lake Village Clinic
Our clinic was established in 1910 by Dr. E.P. McGehee who attended Southern University of Greensboro Alabama, Vanderbilt University, and finished his medical studies at the University Of Mobile, Alabama in 1892. In 1899, McGehee boarded a steam boat and almost drowned when it sank in the Mississippi River. After making his way to Lake Village Arkansas, he purchased a Victorian-era house and opened the E.P. McGehee Infirmary in 1910. This building is on the National Register of Historic Places.
Dr. McGehee specialized in surgery and it is reported that in his first sixteen years he performed 3,600 major operations. The infirmary became known as the "Mayo Clinic of the South" because he installed air-conditioning and kept up-to-date on new surgical techniques. The x-ray facility he installed was one of the first in the state of Arkansas. In 1967, a new medical facility was built which included a hospital and clinic, and eventually became the Lake Village Clinic.
Dr. McGehee and his wife had one son and two daughters. His son became a doctor and practiced at the Lake Village Clinic. His two daughters married doctors, one of whom being John H. Burge, who received his medical degree from the University Of Arkansas School Of Medicine in 1926. In December of 1942 Burge became a Fellow in the American College of Surgeons and was active in both community and state, having served as Commissioner of the Arkansas Game and Fish Commission. His professional service included holding leadership positions on several medical and surgical societies.
Dr. Burge and his wife had a son, John "Jack" Pelham Burge, who also became a doctor. Dr. J. P. Burge received his medical degree from the University of Arkansas in 1961. He completed a Surgical Residency in 1966 at Alton Ochsner Medical Foundation in New Orleans, La. Following in his father's footsteps he also is active in his community serving on the Board of Directors of the Southeast Arkansas Levee District and The Bank of Lake Village. He has served as President of the American College of Surgeons Arkansas Chapter and President of the Arkansas Medical Society. To this day, he still practices at the Lake Village Clinic and at Chicot Memorial Medical Center.
Through the years several doctors have joined Dr. J.P. Burge to practice medicine. Doctors Jim Wright, Jo Anne Gregory, and John Parks are presently practicing at the clinic.  They are joined by Mary Margaret Minsky, PA-C, Chris Johnson, APRN, Nina Deal FNP-C.